Minnesota Network
Network News
TPS MN Days: "Recharge Your Teacher Power"- Thursday, October 14th from 4-5pm CT on Zoom
Feeling depleted? We know that COVID is taking an unprecedented toll on teachers, students and families. Join us to recharge your teacher power by connecting with like-minded educators. We'll practice a resilience strategy called Telling Empowering Stories. You'll leave feeling inspired and receive a set of practical tools to renew your energy.
What is a Social-Impact Network?
A social-impact network is a set of people who voluntarily organize themselves for collective action to solve a large, complex social problem. This Teacher-Powered Schools Minnesota Network is built upon relationships to connect, share, and collaborate around activities to transform education. People in this network believe that teachers, knowing their students' unique needs, must be designers and deciders — in schools where they have full authority as a professional group to make the decisions that matter for student and school success.
Where are the Minnesota Teacher-Powered Schools in this Network?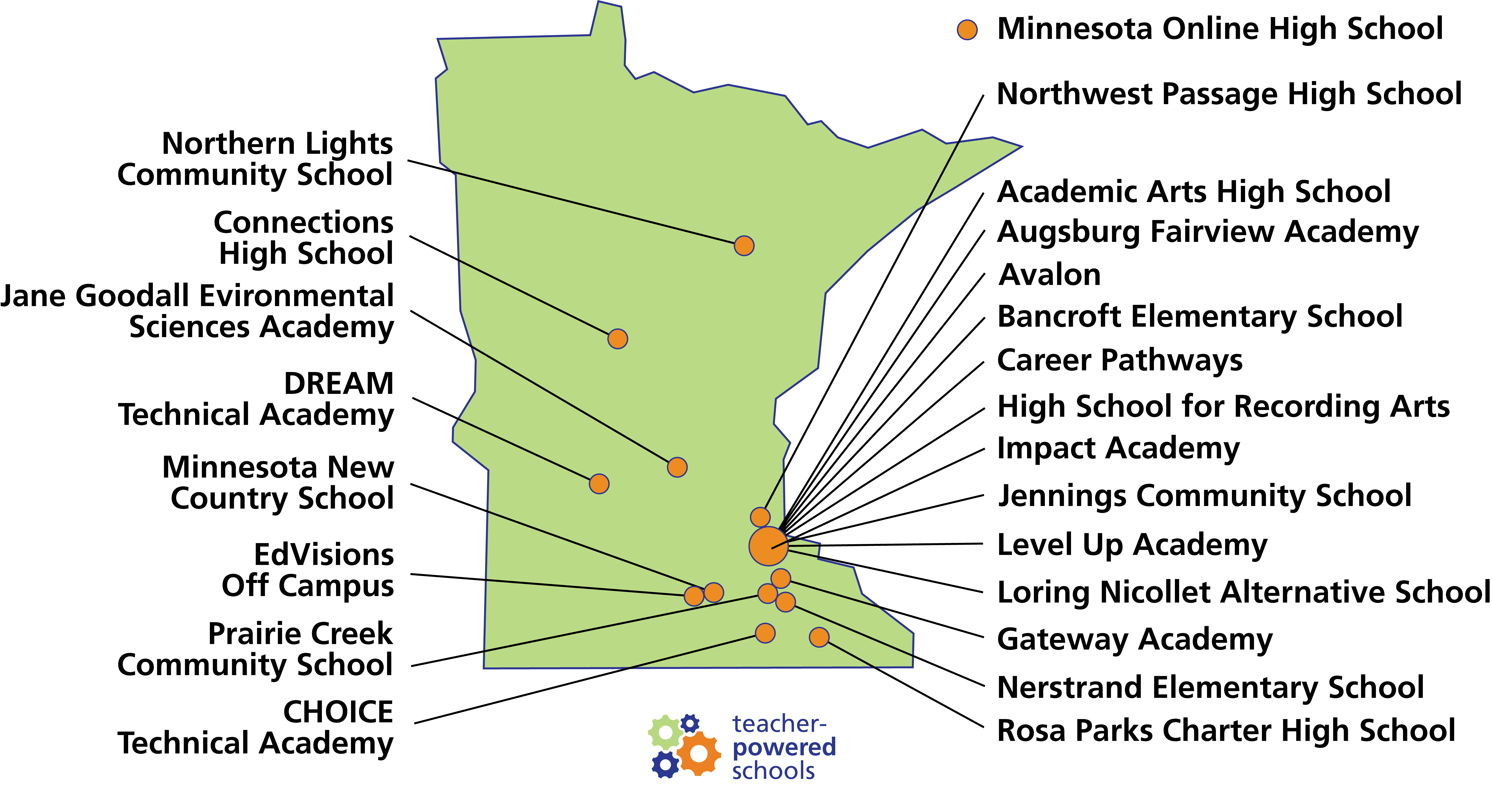 Check out the map pinned with the identified teacher-powered schools in Minnesota. Each teacher-powered school is unique, yet all are made up of teachers exercising decision-making responsibilities, in areas of designing and running their school. You are welcome to connect with any of these schools to learn more about their journey.
If you need help making connections, please contact Amy Junge, Director of Teacher-Powered Schools at Education Evolving.
Join the Network
The purpose of the Minnesota Network is to provide teachers opportunities to connect, to offer each other support and encouragement, exchange best practices, and share advice relevant to the Minnesota context.
Are you a teacher interested in joining the Minnesota Network? Some of the specific benefits the network can offer include:
Connecting: Grow personal relationships with educators who are implementing similar school designs, facing similar challenges, and/or serving similar students.
Feedback: Get helpful feedback from your peers at other schools, on your learning and leadership models.
Events: Attend events, such as learning dinners, networking happy hours, guest speakers, and workshops.
Storytelling: Hold up your work and get help telling your story, to your local families and community, and to broader Minnesota audiences through our blog and other channels.
Encouragement: And finally, you'll get encouragement and enthusiasm for the great work you are doing. You don't have to feel like you're in this alone!
Consider joining the network to encourage others with your story or to be encouraged, so all students everywhere can be successful! Please connect with any questions or needs you have.