Thank You For a Great 2017 Conference!
Read more about a teacher's top 5 takeaways from 2017 conference in this Education Week blog post. And see the archived 2017 conference information below, including info on the sessions, presenters, etc. Please note this is the archived page for the conference held in January 2017. Information about the 2018 conference is available here.
When
School Tour: Friday, January 27th (optional)
Conference: Saturday, Jan. 28 at 8:30am to Sunday Jan. 29 at 12:30pm
Workshop: Sunday, Jan. 29 1pm-5pm (optional, separate)
Where
UCLA Meyer and Renee Luskin Conference Center
425 Westwood Plaza, Los Angeles, CA
Cost
Conference Registration: $299 until January 15th
*Discount for groups of 4 or more
Last minute registration: $325 after January 15th
Friday School Tour
: $25
(optional, separate)
Sunday Post Conference Workshop
: $75
(optional, separate)
Hotel: $239 per night, including tax
*Groups of 4 or more receive a 20% discount for registration and post conference activities .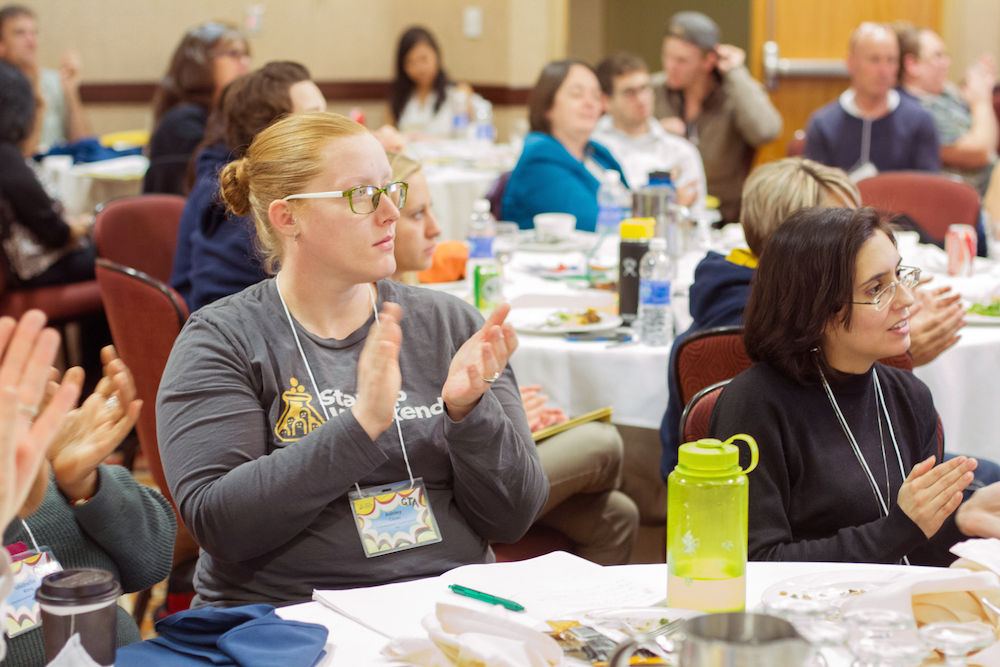 Financial Assistance
Limited funding is potentially available for school teams in need of financial assistance. Please fill out this brief inquiry form and we will contact you with more information.
"[The conference] was a quantum leap forward. While I had ideas about what this concept meant, it was not until we began to discuss ideas and struggles that it became clearer. I was able to get the best of both worlds: concrete 'next steps' advice from experienced individuals and the opportunity to discuss theoretical concepts."
– Attendee from 2015 Conference
School Tours
Friday, we will visit the RFK Community School campus that houses 6 teacher-powered schools. You will get a chance to tour all the schools, participate in small group centers, and see teacher-powered in action. On Saturday, we kick off the morning with a tour of Social Justice Humanitas Academy. The SJHA teacher team is led by the inspirational Jose Navarro and Jeff Austin, two of our presenters in 2015.
FRIDAY SCHOOL TOUR SOLD OUT: for waiting list, click here.
Sessions
Breakout sessions are designed and led by teachers, who will share their teams' most innovative practices. There are over 30 sessions within five strands to strengthen and build capacity within teacher teams and supporters. Each session is designed for participants to leave with practical skills they can put into practice at their school site, within their teams, or with their community.
Topics
Cultivating shared purpose
Distributing School Leadership
Putting Students at the Center of Design and Management Decisions
Pursuing New Opportunities As Teacher-Powered Community Schools
Encouraging District and Charter Authorizer Support of Teacher-Powered Schools
Partnering with Union Leadership

"Exposure to the different models of school that people are using was helpful in expanding all of our thinking about how and what to tackle next."

– Attendee from 2015 Conference

Strategies for parent and community involvement
Building allies, including relationships with districts, administrators, and unions
Advocating for teacher-powered schools
And more!
Program
Friday, January 27th; 10:00am – 9:00pm
Saturday, January 28th; 7:30am – 5:45pm

Early Morning School tour: Social Justice Humanitas Academy
Welcome/Design Challenge: Share your courage, heart, and wisdom with people at different stages of designing and running teacher-powered schools. Work together to learn how to overcome the obstacles you and your team personally face in the journey ahead.
Breakfast and lunch included
Breakout sessions

Sunday, January 29th; 7:30am – 12:30pm

Plenary and Teacher-Powered Schools Awards
Breakout sessions
Breakfast included
Post-conference workshops
Wraps up at 12:30pm
"Having a team of people attend the conference together and bring back the energy as a group was profound, since the shared experience is far more powerful, and will likely have a greater, more lasting effect over the long term."
– Attendee from 2015 Conference
Presenters
Sessions are presented by over 20 teacher-powered teachers, including the Teacher-Powered Schools Ambassadors. Lori Nazareno (founder of Math and Science Leadership Academy and school redesign leader at the Center for Teaching Quality), Kim Farris-Berg (lead author of Trusting Teachers with Schools Success), Amy Junge (teacher-powered schools leader at Education Evolving), and others will also present.
Featured Ignite Presentations by Carrie Bakken, Jenerra Williams, and Karen Hunter Quartz.
Location and Hotel Information
The conference will be held at the brand new UCLA Meyer and Renee Luskin Conference Center, in Los Angeles, CA.
Sunday Post-Conference Workshop
After the main conference wraps up, come join a hands-on, small group workshop session. Work on a teacher-powered topic of your choice with your team and with help from teacher-powered initiative staff—and earn "micro-credentials" in the process!
Community Schools Learning Lab
Join our colleagues at the Los Angeles Education Partnership and the CA Labor-Management Initiative before the conference, on January 25th-26th, for a Learning Lab for district and school teams on Collaboration – A Path Towards Whole Child & Whole School Success.
Press
Los Angeles, CA, Nov 28, 2016 – On January 28-29, 2017 hundreds of educators, union and district leaders will convene for the second Teacher-Powered Schools National Conference. The conference is the largest national gathering for teacher teams working at or interested in developing a teacher-powered school—a trend that is transforming American public education from the inside out.
Exhibitors and Sponsors
Interested in connecting with our amazing teacher-teams and supporting teacher-powered work? Find out how to be an exhibitor or sponsor at our conference.
A big Thank You to our sponsors!