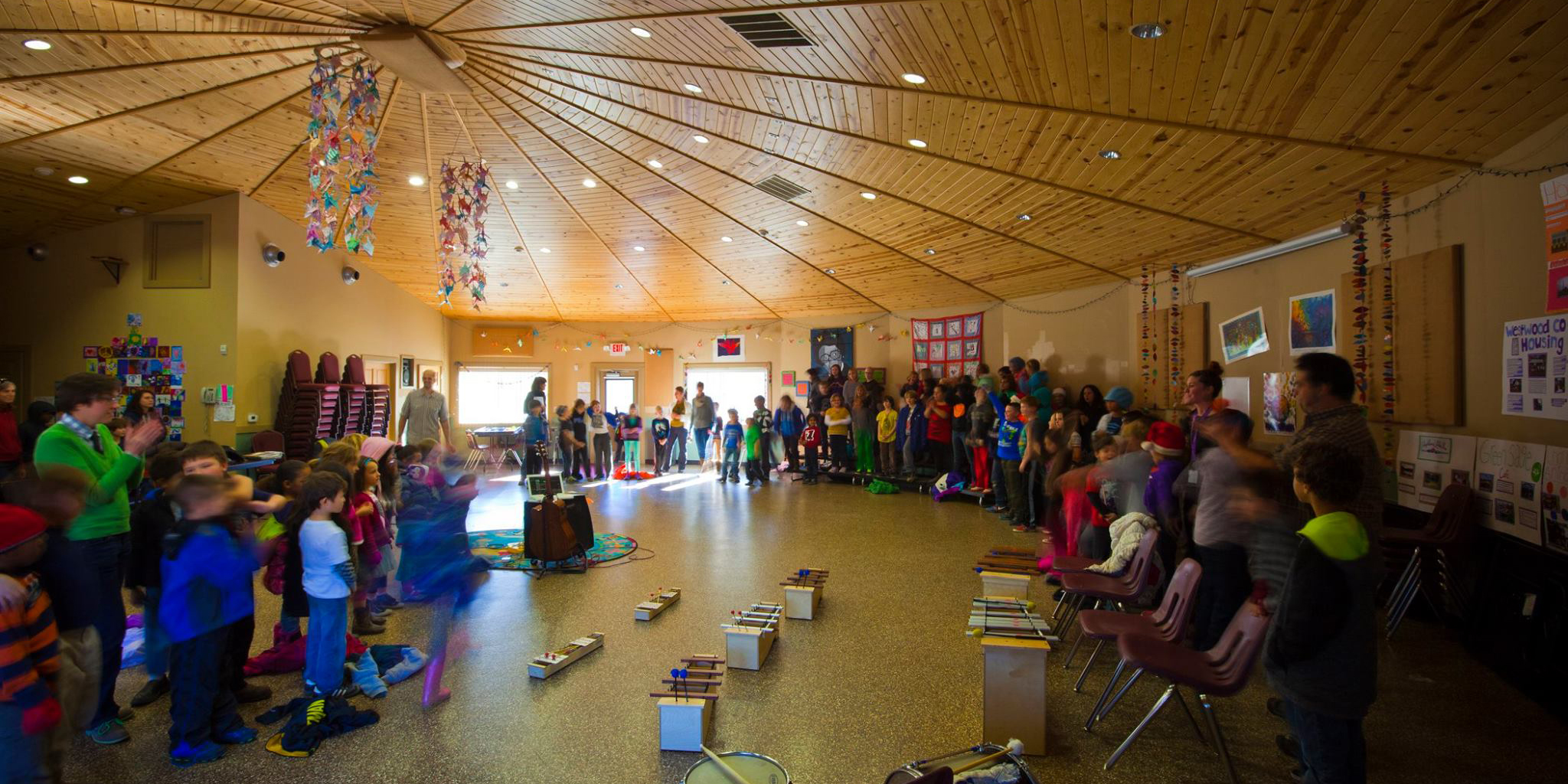 Teacher-powered ambassador Adam Haigler from Tri-County Early College had a chance to visit Francine Delany New School for Children and learn about their school. Visiting another school and spending time talking with their team is one of the best ways to understand the power of shared leadership. For host schools, hosting visitors is a chance to shine and share the innovative ways your team teaches, leads, and positively influences students.
"It was sort of like going from working as an employee to becoming an entrepreneur." Jessica Roberts, a teacher at Francine Delany New School in Asheville, NC, thus described the experience of going from a hierarchically governed school to a teacher-powered school midway through her 17-year teaching career. Though she thought her first school's leadership was solid, she says she'd never go back to that type of governance, despite the extra workload at her current school! Her school is unabashedly teacher-powered, with only one administrator who doesn't also work in the classroom.
So, how can such a radical model work? Glad you asked! The governance of the school is managed by the Directorate, which consists of all full time staff members at the school. This group meets weekly and ensures that half of the agenda is about the curriculum and instruction, while the other half focuses on "business." Over the 20 years of the school's history, they have optimized this approach by compartmentalizing the agenda so that business concerns don't take over the entire meeting. This is their strategy to keep their attention on long term curricular objectives, rather than simply putting out fire after fire.
If important items aren't fully resolved in the Directorate meeting, an Executive Council tends them during their bi-weekly meeting. This group is on a rotating schedule to ensure that every staff member is on it regularly and no one is left out of this leadership role. Admittedly, according to Roberts, the Executive Council years are arduous because of the extra responsibility, but they are equally rewarding. Roberts mentioned how one of the duties for that council is to attend district-level meetings where there are rarely other teachers around the table, thus providing an important perspective for high level decisions that will undoubtedly affect their classrooms. The council also provides guidance and direction to the Directorate to ensure decision-making processes are efficient and inclusive by setting meeting agendas and performing other strategic functions.
Roberts was quick to mention the challenges inherent to a teacher-powered governance model, but named example after example of how it enabled her school to arrive at sensible, student-oriented solutions to common problems. The Directorate has adjusted schedules, transportation systems, budgets, and pedagogy to better meet student needs over the years. Because the primary decision-makers are witnessing those needs firsthand in the classroom, the framework facilitates highly customized and contextual solutions to any dilemmas. This often works better than the commonly out-of-sync solutions passed down from traditional hierarchical frameworks, then plagued by a lack of buy-in. When the ideas come from the collaboration of on-the-ground personnel, solutions will be more likely to work and buy-in will be intrinsic, which makes implementation more efficient, even if the front end decision making process takes a little longer. Buffy Fowler, a founder who currently serves as Operations Coordinator, remarked that, "No one person could come up with solutions as well as the entire group." Unfortunately, in most schools one person often makes the most important decisions.
Over the 20 years of the school's history, the staff has optimized the teacher-governed process by taking some decisions off the teacher's plates and creating the Operations Coordinator role. Things like managing contracts, bookkeeping, and legal compliance are considered items that can dampen the efficiency of the Directorate and have less of an impact on students. This structure undercuts a common critique of teacher-powered schools — that teachers might become bogged down with irrelevant minutia and lose focus on their main role: teaching. However, some items historically called "minutia," and therefore relegated to administrators can have profound impacts on student and teachers. Things like technology policies, budgets, parent interactions, behavior management and others are extremely important elements for school culture, so teachers have a vested interest in being an integral part of those decisions. It appears that a continual process of deciding what decisions must be managed by teachers versus administrators is a healthy ongoing practice for teacher-powered schools.
Critics of this model may say that it's woefully inefficient and asks too much of already overburdened teachers. Roberts acknowledges that it does mean more work, but claims that the benefits far outweigh the drawbacks. Indeed, the other teachers at Francine Delany seem to agree, considering the school hasn't had a job opening in five years! This outlier in a state plagued by a massive teacher shortage and paltry teacher retention rates should warrant a second look from policymakers concerned with this issue who could start encouraging this practice.
If you think your school might benefit from more teacher-powered governance, consider learning more about the 120+ schools nationwide that are seeing great success from this model on this website. Feel free to use the discussion starters to begin your journey down this promising path!
Learn more about Francine Delany New School for Children.