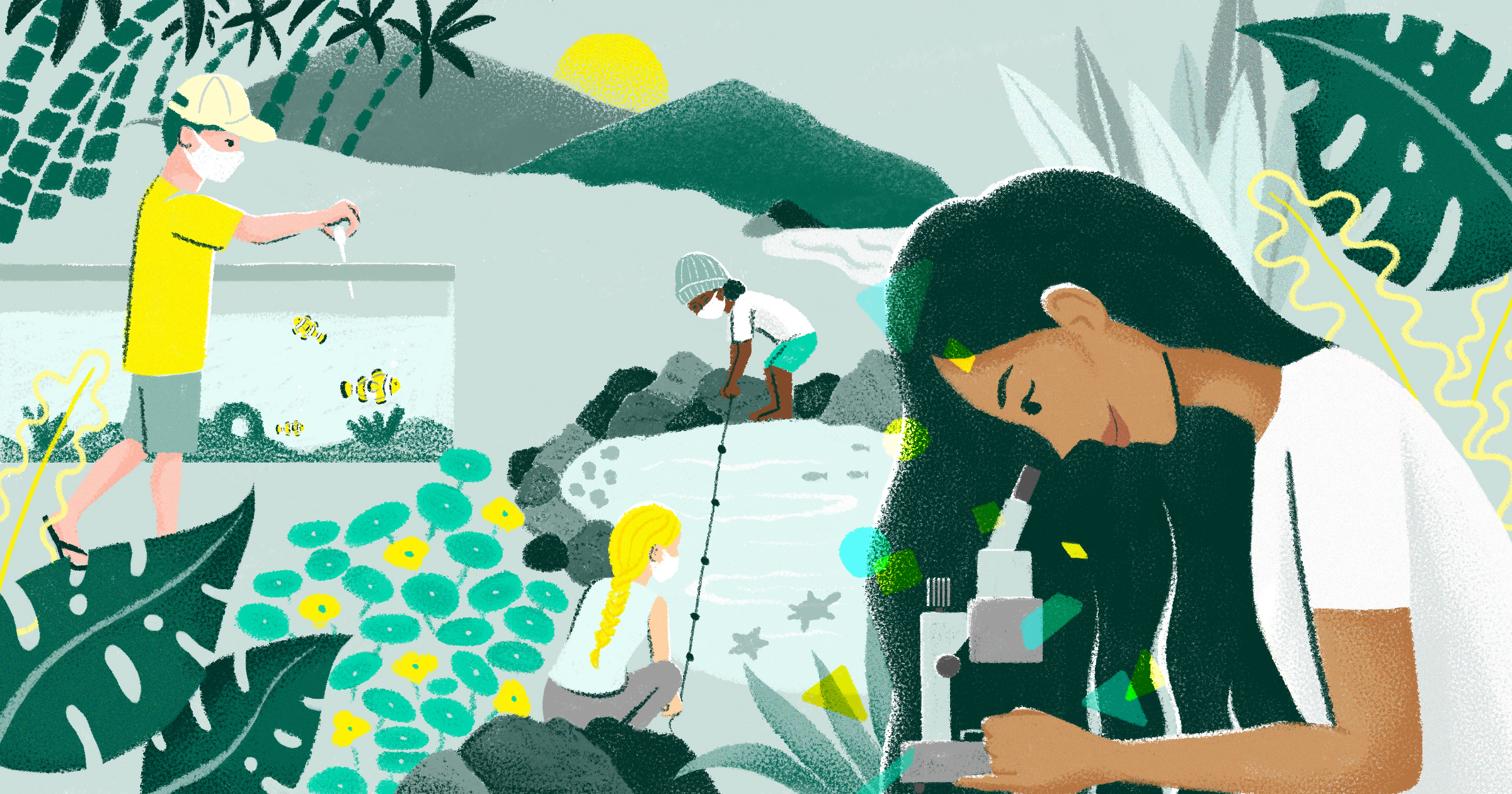 Illustrations by Khou Vue for Education Evolving
Abruptly shifting to distance learning is a shock to the system for any student, but especially if you're used to going to school among sharks and tide pools. Such was the case for students at West Hawaii Explorations Academy, or WHEA (pronounced "WAY-uh") when Covid hit last year.
WHEA is a project-based, science-focused middle and high school on the Western shore of Hawaii, "the Big Island." In a typical year, the island climate allows students to learn mostly outdoors. Their campus includes a lagoon pool and thriving aquaponics system. A nearby 3,000-foot deep sea pipe allows students to collect all manner of marine creatures.
As the first "start-up" charter high school to open in Hawaii, WHEA has earned national attention for its hands-on curriculum and student-led research projects. According to the school's website, self-directed students who wish to challenge themselves thrive best at WHEA, but "a 'can-do' attitude almost always outshines innate ability."
Finding a "WHEA Way": Responding to Covid-19
Like at many schools, WHEA's response to COVID-19 has evolved quarter by quarter since the start of the pandemic. With most of the school year already behind them, WHEA teachers collectively decided to finish out the last quarter of 2019-20 more or less as planned, but over Zoom—an impressive feat for a school almost entirely based on outdoor, hands-on learning.
Lead Middle School teacher, Kim Manuel, shared that her team worked "countless hours" to "bring WHEA to the students virtually." Where possible, students continued working on their long-term research projects, leveraging webcams and shared documents to collaborate. "They did this amazing job," Manuel said, but "it literally drained my team. They were spent. It took so much time, energy and effort to do what we took for granted being on campus."
Come fall, the middle school team took a step back. Recognizing their present workload was unsustainable, and concerned that incoming 6th graders would struggle with project-based learning having never stepped foot on campus, they turned to an online learning platform to ensure students could access a state-approved curriculum while staff regrouped.
Meanwhile, in the high school, students were given three choices: a completely online, self-guided curriculum; an integrated approach that included both self-selected projects and the online curriculum; or a virtual version of "the normal way of doing things" for students hoping to come back to campus—a completely project-based curriculum.
As the year progressed, WHEA staff were able to incorporate more and more project-based learning into their students' schedules. When Liana White, WHEA's lead high school teacher, and her students could finally be back on campus, there was a collective sigh of relief. "Everything was just so much more doable then," White said, attributing her teenage students' renewed motivation to being together in a collaborative learning space.
Principle 1 in Practice:
Student-driven scheduling means learning anytime, anywhere
One element that sets WHEA apart from most traditional secondary schools is its approach to scheduling. "We don't have bells here," Nakakura told us. "We don't have someone going around blowing a horn, [saying] 'Okay, period one is over!' We have a fluid timeframe."
Students use planners to manage their own time, deciding when they need to be where, and what they'll be working on during that time. "A student's schedule is a blank sheet of paper," White said. "Each kid's schedule is actually different because it all depends on what projects they're involved in."